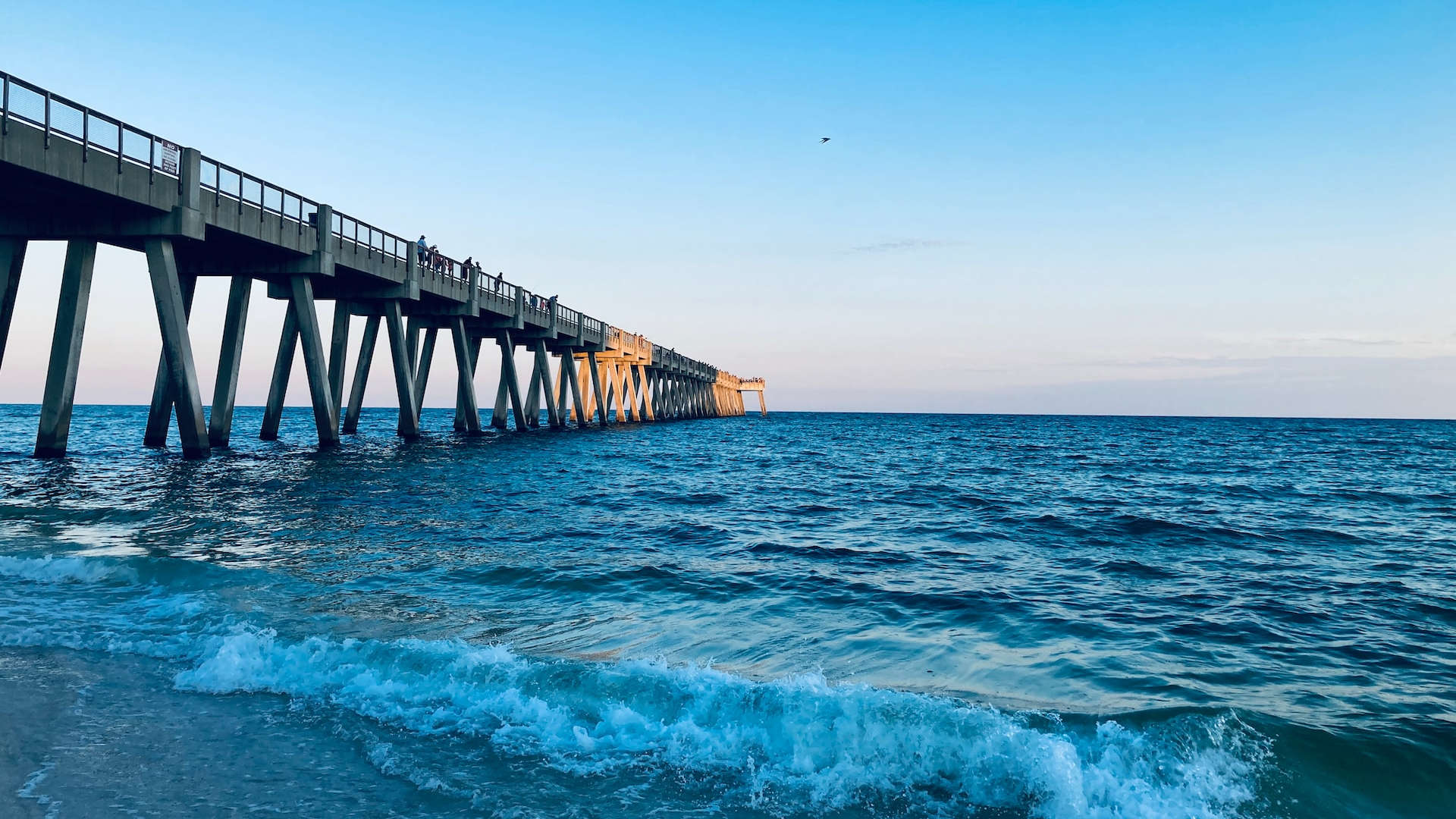 Attractions
The Navarre Beach area has many attractions just a short drive from the beach including; touring the naval aviation history at our National Museum of Naval Aviation, feeding the giraffes and taking a train ride at The Gulf Breeze Zoo, catching a dolphin show at the Gulfarium, or riding the water slides at Big Kahunas.
Open everyday from sun up to sun down. Take a walk out on Navarre`s newest addition. The Navarre Beach Pier is 1500 feet long and considered the longest fishing pier in the Gulf of Mexico. Fisherman are reeling in pompano, flounder, cobia, king and Spanish mackerel. Walking passes are $1.00, children under age 5 are free. Adults may buy fishing passes for $7.00. Youth (15 and under) may fish for $4.00. Children under age 5 are free.
Location: 8579 Gulf Blvd. Navarre Beach FL
Phone: 850-710-3239
The Gulf Breeze Zoo is a wonderful learning experience for all ages. The Zoo is home to over 900 animal species including gorillas, a Great Indian rhinoceros, monkeys, wildebeest, kangaroo, and more. You can feed alligators at the Gator Hole, visit the petting zoo, or take a ride on the Safari Line Ltd. The Safari Line Ltd. is a safari train ride through 30 acres of free-roaming animals in their habitats. The Zoo is just 10 minutes from Navarre Beach. Take a left off of the Navarre Beach Bridge and travel 8 miles west on Hwy. 98.
Location: 5701 Gulf Breeze Parkway (Hwy.98)
Phone: 866-620-1825
The Gulfarium is the world`s oldest marine show aquarium. Their mission is to provide education about sea life inhabitants and entertain at the same time. Catch one of the the Gulfarium`s sea lion or dolphin shows. Their exhibits also feature sharks, sting rays, Loggerhead turtles, otters, tropical penguins, and tropical birds. Admission hours are 9am to 3:30pm. The park closes at 4:30pm. The Gulfarium is located in Fort Walton Beach, approximately 16 miles east of Navarre Beach on Hwy. 98.
Location: 1010 Miracle Strip Parkway (Hwy.98)
Phone: 850-243-9046