Many people think of the snow when they think of winter, but we think of beautiful white sandy beaches and fun Winter Navarre events for any type of vacation plans. Checkout our up to date information about the special holiday and cool season events during the months of December to February.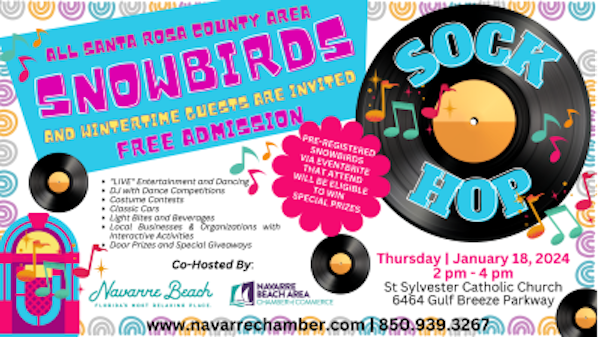 Thursday, January 18, 2024 2pm to 4pm
The Santa Rosa County Tourist Development Office and the Navarre Beach Area Chamber of Commerce will be co-hosting the 2nd Annual Navarre Beach Are Snowbirds Festival at St. Sylvester Catholic Church located at 6464 Gulf Breeze Parkway. Be prepared to have lots of fun as all are welcome to come and rock out at the "Snowbirds Sock Hop". All attendees will receive a special Sock Hop Passport and a unique stamp from each vendor booth they visit. Those who visit each participating vendors will be entered into a grand prize drawing. Thousands of visitors head south to Northwest Florida for the winter each year. The "Navarre Beach Area Snowbirds Sock Hop" is one of many events designed to bring the snowbirds together in their home away from home.
Location: St. Sylvester Catholic Church located at 6464 Gulf Breeze Parkway