Taking a freezing cold dip on New Year's Day has become a tradition in Navarre over the past several years. Some years it's very chilly outside and some years the sun is shining, but the water is always colder than us locals are used to.
After a celebratory evening of ringing in the New Year the night before, hundreds of Navarre locals and tourists typically spend the next afternoon submerging themselves in the sub-60-degree water for a great cause.
The organizers call it "Freezing for a Reason" because all proceeds go to a charity.
There are two plunges on New Year's Day – The Penguin Plunge 'n Paddle in the Santa Rosa Sound at Juana's Pagodas and the Pirate Plunge in the Gulf of Mexico on Navarre Beach, which has an afterparty at Windjammers on the Pier.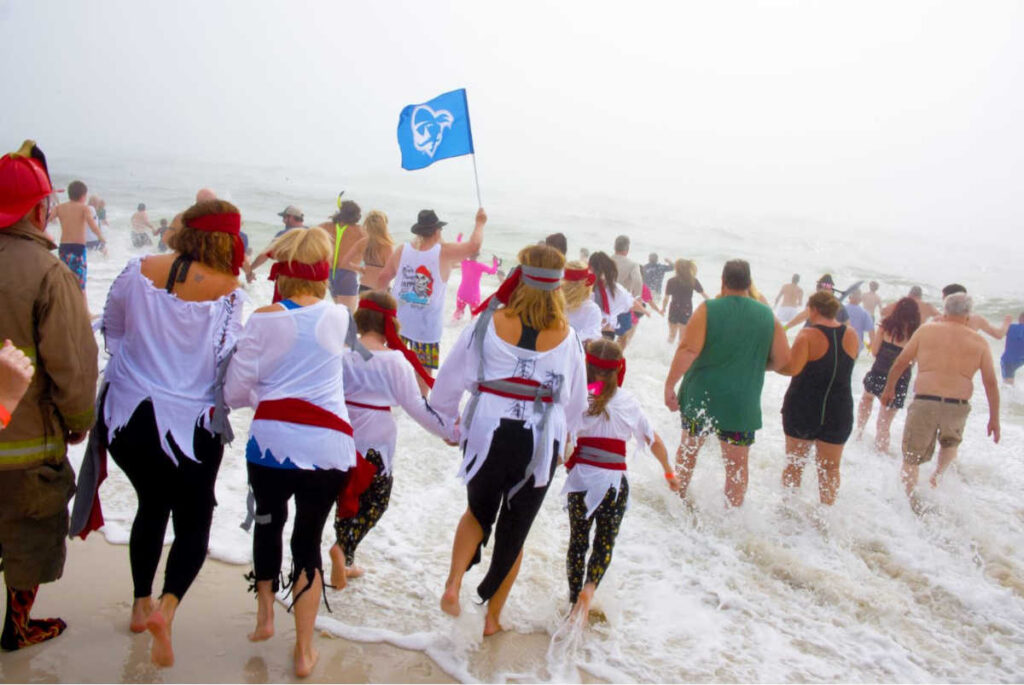 The Pirate Plunge festivities begin Jan. 1 at 11 a.m. when the Rowdies rock band gets the party started at Windjammers.
The actual plunge will take place at noon in the Gulf by the Navarre Beach Fishing Pier. All funds raised will support their charity – The Pregnancy Resource Center of Navarre.
The Pregnancy Resource Center of Navarre is a Florida nonprofit organization with a mission to provide free pregnancy testing, medical referrals, ultrasounds, adoption assistance, pregnancy and parenting education and other support to expectant mothers and their families by applying the Christian Principle of "Love for ALL Life." All services are free and confidential.
The Rowdies perform until 3 p.m. There will be Grub and Grog to enjoy and prizes will be raffled off, including a large amount of cash being raffled off to the 50/50 winner. For more details check out the official pirate plunge website.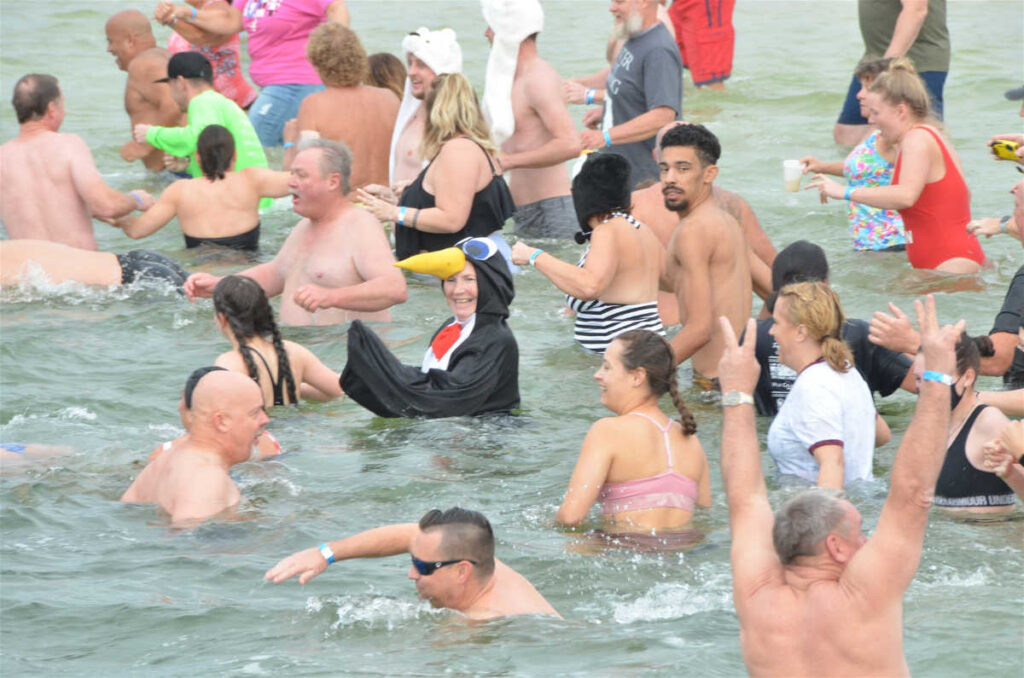 In the early afternoon, the 13th annual Penguin Plunge will take place, with proceeds benefiting Healing Paws for Warriors. Last year's plunge raised $12,000 to benefit this charity, whose slogan is "Save a veteran, rescue a dog."
Healing Paws for Warriors is a nonprofit dedicated to providing Post-9/11 combat veterans suffering from Post-Traumatic Stress Disorder, Traumatic Brain Injury, and Military Sexual Trauma by providing rescue-to-trained ADA-certified service dogs at no cost. Their goal is to bring awareness to veteran suicide, reducing the numbers one service dog at a time.
The event will start with a paddleboard adventure course at 12:30 p.m. and the plunge will take place at 1:30 p.m., followed by a party with food, drink, live music, and a raffle.
Music will be provided by none other than Baby New Year, Stevie Hall, who dresses in a diaper-wearing a sash and does the plunge himself, Rudzki said. Then, Hall dries off to sing and play some songs to ring in the new year.
Both "penguins," people taking the plunge, and "chickens," people just here for the party, can register online at Juanas Pagodas website. The plunge registration is $20 and the paddle registration is $30, but the price will increase to $5 after Dec. 18 and $5 more for same-day registration. Long sleeve t-shirts are included while supplies last. Registration also includes draft beer, hot drinks, food, live music, and raffles. Book your stay to ring in the New Year on Navarre Beach by clicking here.