Your vacation is on the horizon, and you want to make sure you have everything you need for the perfect getaway. No worries because even if you forget to bring it, it's just a beach store away. Here's what you should bring to your beach day on Navarre Beach.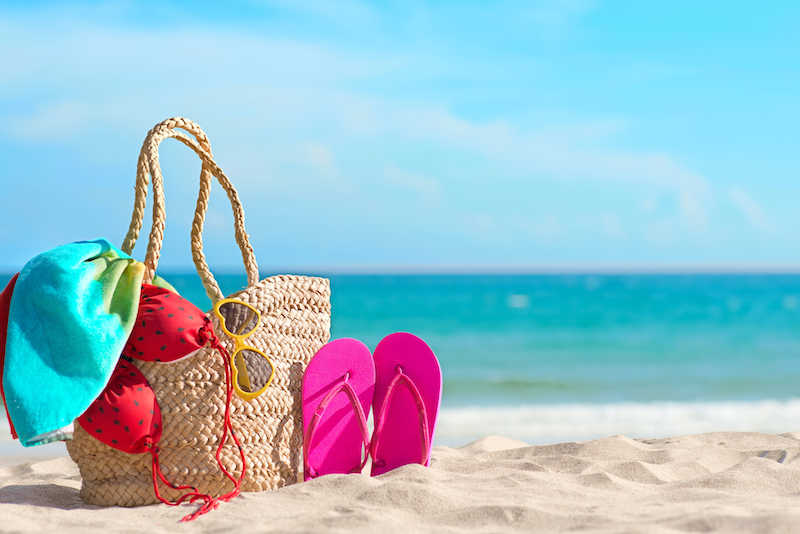 1. SUNSCREEN. Florida is known as The Sunshine State and whoever came up with that nickname wasn't playing around. With all sunshine, the UV rays are real. Even when it may seem cloudy, put the sunscreen on anyway. The sun's UV rays can pass through clouds, and you can still get burnt. With sunscreen, you can return home nicely tanned instead of looking like a lobster.
2. A LARGE BEACH TOWEL. Towels aren't just for drying off. They are great for spreading out on our sugar-white sand beaches to lay on. They can be a cover-up over your swimsuit, a shade for your face while tanning or a blanket if the wind picks up. And a large beach towel is so much better than a normal bath towel. It gives you room to lay down and not get too much sand in your hair.
3. AN INSULATED WATER BOTTLE. Water is a must, especially on a warm, sunny day. It's easy to get dehydrated, even when you're swimming in the Gulf. There's nothing better than ice-cold water on a beach day. Make sure to bring an insulated water bottle so your ice won't melt. If not, at least pack a koozie.
4. SNACKS. Whether you're out on the beach for a few hours or all day, don't forget to pack some snacks. It's good to pack a collection of healthy snacks like an apple or carrot stick. After spending some time in the hot sun and saltwater, you'll definitely be craving something to munch on.
5. SUNGLASSES. The sun is so bright, you gotta wear shades! The white sand of the Emerald Coast makes the sun appear even brighter. Do yourself a favor and pack a pair of sunglasses in your beach bag. If the sunglasses are polarized, that's even better. Protect your eyes; you only get two of them.
6. A WATERPROOF WATCH. When you're out in the water, it's nice to forget about the time and enjoy your vacation. That is absolutely an option. However, if you are a planner who likes to stick to a schedule, make sure to pack a waterproof watch. That way you can play frisbee in the water or ride the waves, then glance at your wrist for the time so you can get to your next fun adventure of the day.
7. BEACH TOYS. Whether it's a football, frisbee, volleyball, shovel, and pail, or a beach ball, make sure you bring it along. It's nice to have something to do, especially if you're bringing kids or teenagers along. Every activity is more fun in the sand or in the water.
Your bag is ready to be packed. What are you waiting for? Book your stay today!