It's finally warming up a little bit on Navarre Beach and we couldn't be happier. It's not quite swimsuit weather yet, but temperatures are gradually warming along the Gulf Coast, including the water. Before we know it, children will be splashing in the ocean again and surfers won't even need wetsuits.
But until then, what's there to do on Navarre Beach on a cold, winter day?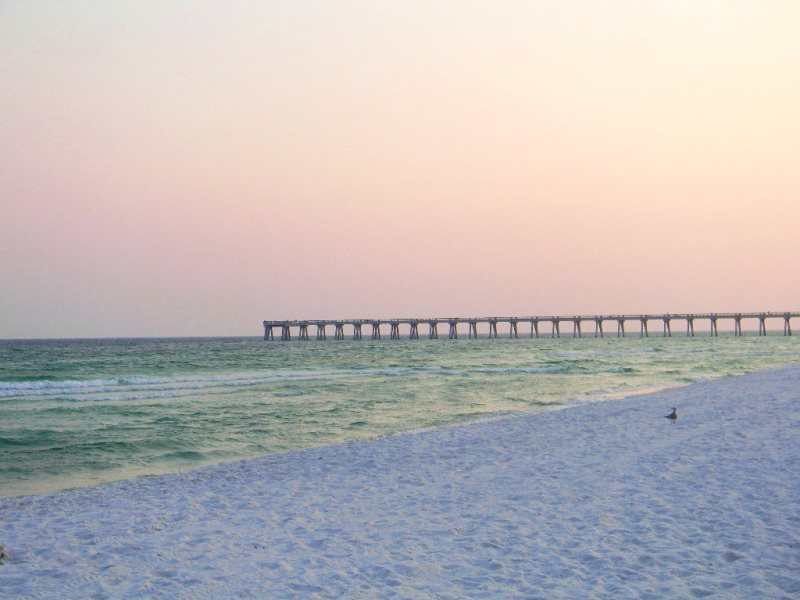 1.) Put on a jacket and walk on the beach.
It's cold, but it's not that cold. After all, we're still considered the Sunshine State. A windbreaker is really all you need to enjoy a stroll along Navarre Beach during the winter.
2.) Bundle up, bring a big blanket and watch the sunrise or sunset in the sand.
Nothing beats watching the golden ball of heat make its entrance or departure for the day at beautiful Navarre Beach. Make sure to pack some blankets and jackets to block the sea breeze, since you won't really be moving around much.
3.) Go watch a game at the indoor bar at Juana's Pagodas.
Juana's might be known for their tiki huts and sand volleyball courts, but they also have an indoor bar with multiple TVs and projector screens playing the best sports games for you to hoot and holler over. Enjoy the game inside with heat while sipping on your favorite beer or cocktail.
4.) Sing karaoke at Windjammers on the Pier.
Every Wednesday starting at 5 p.m. you can come sing your heart out at Windjammers, all while enjoying Happy Hour pricing until they close at 9 p.m. This tropical restaurant is right on the Gulf of Mexico's longest pier, measuring at more than a quarter-mile long. All areas in the restaurant and the wrap-around deck are heated for your comfort.
5.) Warm-up with Sailor's Grill Omelets.
Sailor's Grill on Navarre Beach is known for their delicious omelets and boy, are they good. From their Spicy Southern omelet with bacon, ham, sausage and jalapenos to their Greek omelet with roasted red peppers, green bell peppers, feta cheese and olives, they are sure to satisfy. Sip some coffee as you enjoy brunch with a view on their heated patio.
Don't let the cold weather scare you away from the beach, I'm sure it's warmer here than where you are right now.
Looking for a place to stay? Book your winter stay and check out our Navarre Beach rentals.